If there is one thing I am a sucker for, its tradition, and nothing lends itself to tradition like Christmas.   This seems to be one of those times of year when we pull out that cardboard box full of last years newspaper and unwrap more than some pieces of plastic with metal hooks.  We unwrap stories, laughter, and recollections. 
So, this year, inspired by Jolanthe and Madonna I am sharing some memories with you.   Here are a couple of our favorite ornaments, and the anecdotes that go with  them.
In 2006 I married my wonderful husband.  We married on December 16th, and we honeymooned in Gatlinburg, TN.  Being so close to Christmas it seemed only natural that we would get some kind of ornament.  We opted for something that didn't say "Just Married".  We wanted an ornament that each year we could put on the tree and tell a story about, or just look at each other and smile. 
One of our earliest arguments in married life came courtesy of the Romulan War Bird.  You see, Jeff is an avid Star Trek fan.  I don't mind the show, but I don't want alien spacecraft on my CHRISTMAS tree.  All the same, the Warbird is no longer confined to the back and the bottom.  Now its got its own place of honor, and it stands as a symbol of Peace On Earth….and in our household.  :) 
Finally, this little guy was added this year.  We were blessed with our first home this year, so this was a no brainer for our first Christmas season in our new house.  I am sure in years to come, no matter where the Lord may lead, we will hang this on the tree and remember the Christmas of 2011.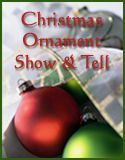 I am linking this post up to Jolanthe's Christmas Ornament Show and Tell!  Be sure to stop by No Ordinary Moments and check out all the other fun stories there!